The e-commerce industry is currently experiencing an unprecedented boost in popularity, and, according to analysts, total industry sales will reach a record $6.3 trillion. This is the result of a general increase in popularity and customer influx and the emergence of an increasing number of online stores.
Every entrepreneur who wants to enter this market is forced to start from scratch and open a small store. And all in order to develop it over time, expand into a large network to satisfy a larger number of buyers. However, the main question that worries many is: "What e-commerce platform is best suited for a small beginner store?" So, to help you figure it out, we have collected top e-commerce platforms for small business worthy of choosing from. So, without further ado, let's get started.
Tips to Choose Best Ecommerce Solutions for Small Business
Before starting to list the main popular solutions in the field of e-commerce, it is worth talking about what a novice entrepreneur should look for in this kind of software. Namely, what features and benefits should you pay attention to before figuring out what is the most popular e-commerce platform. This approach will help you make the right choice.
Pricetag
The platform's price should concern you in the first place since your financial resources may be severely limited in the initial stages of a business. The variability in the pricing policies is astonishing, and some solutions take a huge bite off your monthly budget. Meanwhile, some solutions provide a trial period, allowing you to familiarize yourself with the main features. Therefore, you should take a closer look at such solutions to make a pick without risks.
Search Engine Optimization Features
If you don't do SEO, you can assume that your store does not exist for the Internet. It is wise to search for e-commerce options for small businesses that have built-in search engine optimization tools. The more aspects you can customize through your chosen platform, the better. Setting up URLs, tags, meta tags, and much more should be present in the platform by default.
Flexibility for Future Scaling
Sooner or later, your business will start to expand, and you will find yourself in big trouble if your platform is not able to support your growing needs and ambitions. The platform should support expansion both in terms of features (they can help you always be at the forefront of the competition) and loads on the entire system. It is also worth paying for pricing plans and what privileges they give when increasing the plan's cost.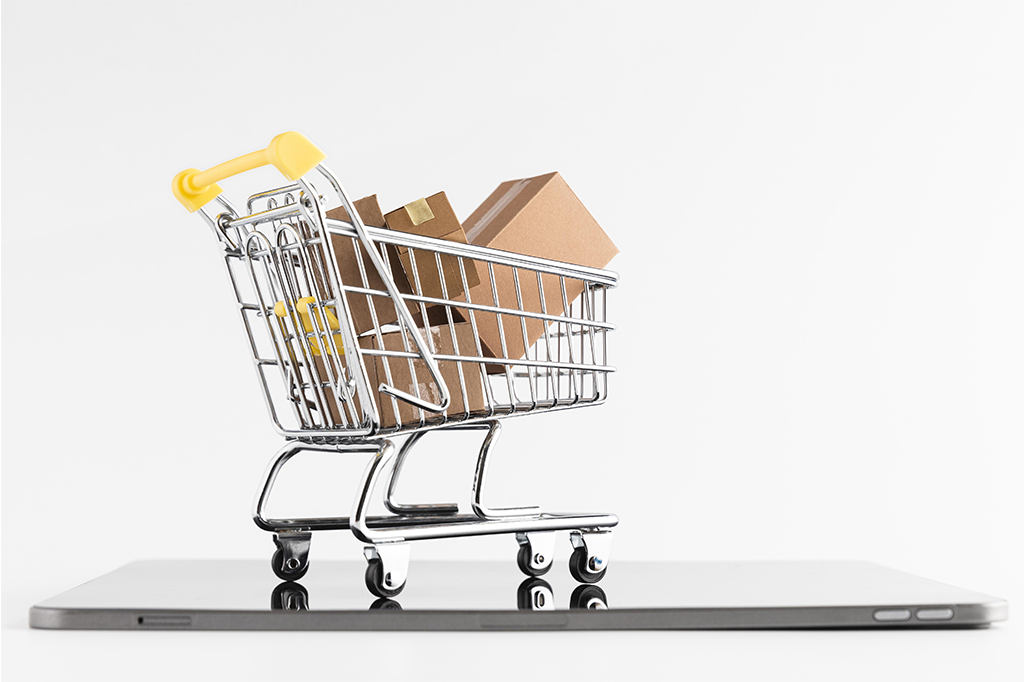 Support of Mobile Platforms
According to analysts, more than 72% of purchases are made through mobile devices, and you definitely don't want to miss out on such a big piece of the pie. Therefore, your future e-commerce platform should support working with large mobile devices in order to create a store on its basis that will look good on the screens of any device. Today, interaction with mobile platforms is the key to business success.
Space for Third-Party Integrations
For maximum flexibility and ease of doing business, you may need third-party integrations and extensions that will make your life much easier. As a result, the platform should support the ability to add third-party applications to its functionality. These can be various analytics tools, blog creation features, additional delivery settings, and much more. Without this opportunity, doing business will become somewhat more difficult.
10 Ecommerce Platforms for Small Business
So, it's time to start talking about why we are here, namely, about various solutions to establish your e-commerce business. We'll take a quick look at each platform, pros, and cons, and touch on pricing.
#1. Wix
And our list opens with a fairly popular e-commerce software for small business among newcomers called Wix. Its main goal is to provide ease of creating your own e-commerce store at a reasonable price. The process of creating your store is extremely simple and you can add various design elements and customize them to suit your needs. In addition, you can make your store unique using built-in design templates that are perfectly compatible with mobile screens. 
In addition, the platform has the following strengths:
Numerous payment methods

There is a choice of a variety of plugins

You can apply various coupons and discount programs right out of the box
However, you should also be aware of some of the disadvantages of this platform:
The feature set is rather limited

If you already have product data, you will not be able to export it

Difficulty adding new functionality
Nevertheless, this eCommerce CMS for small business can please you with the price because the basic plan will cost you $30 per month.
#2. Magento
Next on our list is Magento, which is developed and supported by Adobe. This e-commerce tool is one of the most popular solutions on the market. The main advantage is that it is an open-source tool. As a result, it can be changed for any business needs and add any third-party integrations to get new features and competitive advantage. All you need to do is apply for Magento e-commerce development services, and professionals will create your first store based on the requirements and needs of your business.
In addition to the above, the platform has several trump cards up its sleeve:
Wide range of features

Incredible flexibility and scalability

Works great with mobile platforms

Advanced SEO settings

Large community
However, keep a few nuances in mind:
Developing a store will require an investment

It takes more time to master than other platforms

Good hosting is vital
This eCommerce CMS for small business is completely free, and you can start creating your business right now.
#3. WooCommerce
Our top continues with a fairly popular solution WooCommerce, which is a plugin for the well-known WordPress platform. And this fact is a big difference between WooCommerce and Magento or any other platform. Despite the fact that your arsenal will not have huge functionality, it will not prevent you from creating your own simple eCommerce store that will bring you profit.
In addition, WooCommerce has several positive aspects in store:
Modify it as you see fit

Pretty is easy to get acquainted with

A quite broad variety of different themes and visual customizations
However, there are also a few drawbacks worth paying attention to:
It requires your own WordPress site

The platform does not have its built-in payments
You can pick it any time since it is completely free, so you may test it as your main platform without unnecessary risks.
#4 Shopify
If someone starts talking about e-commerce, the first thing that usually comes to mind is Shopify. This is since this solution is extremely easy to use and affordable for novice entrepreneurs. In addition, entrepreneurs with shops on third-party sites can sync them up with the Shopify store to expand the reach and increase sales. Finally, do not forget about the excellent customer support to solve your questions any day of the week and at any time of the day.
So, let's list the main advantages of this e-commerce software for small business:
Built-in payment options at your disposal

Modification of functionality through a large number of plugins

No restrictions on goods number

Customize the look of your store using different themes
Also, do not forget about the cons:
SEO work is extremely limited

Plugins and integrations cost a lot

Basic plans have a modest set of features
The pricing policy is extremely simple. You are granted a two-week trial version. Once it passes, you may purchase access for $29 per month. If you don't have enough features in this regard, you can pick an advanced package for $299 per month.
#5. BigCommerce
While creating this top, we simply could not fail to mention BigCommerce, which is one of the popular alternatives to Shopify. This best e-commerce website builder for small business stands out from the competitor for its high flexibility and scalability, which can be a key aspect of your choice. In addition, you will have no difficulty in creating your own store on this platform, as it has an intuitive editor with drag and drop of various elements of the website. All ingenious is simple.
In addition, the platform has positive aspects in its arsenal:
Multichannel selling

The platform does not charge transaction fees

Convenient features for ratings and product reviews
However, it is worth remembering certain disadvantages:
Visual customization is limited

Not-so-great performance

Some aspects of pricing plans can be confusing
In order to start your business, you should choose a pricing plan costing $29.95 per month, where you will receive the required minimum of features to start sales.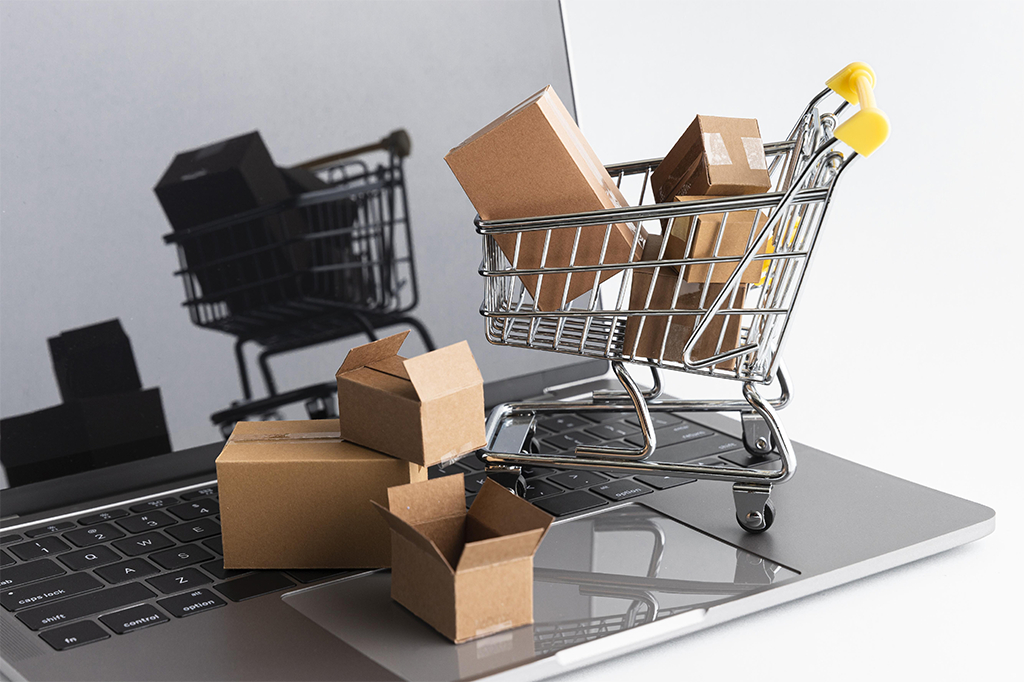 #6. GoDaddy
This e-commerce software for small business stands out among all the list in that it is built on artificial intelligence technology. Developers have implemented this technology to create your own store at the click of your fingers. This allows you to enter the market extremely quickly and immediately start generating profits. The platform supports a lot of domains, which makes it possible to start in any niche.
Also, this solution has the following advantages:
You can be far from being a technician to set up a store

Provides its own hosting

Quite easy to learn
However, do not forget about some disadvantages:
Weak feature set

You can't control the visual design
This platform can be tried out for free using the trial version for a month, and if you like it, you can buy a paid package that starts at $19.99 per month.
#7. Shift4Shop 
It is another eCommerce CMS for small business aimed to help you start your own e-commerce business. The platform has fairly broad functionality, and you will not feel that something is missing. In addition, Shift4Shop has a convenient inventory system for convenient control of stock balances. Finally, don't forget about good flexibility, which will not be a stumbling block when it comes to expanding your business.
Your business will also be supported by the following benefits:
Trial version for platform test

Wide possibilities for customizing the platform

No restrictions on the product pool
You should also be aware of the following disadvantages.
Some visual themes look outdated

The complex process of onboarding
As we mentioned above, a free trial version for two weeks was made for your convenience. The platform itself costs $19 per month.
#8. Big Cartel
Despite the funny name, it hides a pretty serious e-commerce software for small business made for creating a store from scratch and customizing its appearance down to every pixel. If you have enough technical knowledge, you can completely customize your store and back it up with a pretty great free plan with numerous useful features.
Pay attention to the following strengths:
Quick launch of the store

A wide range of applications in any industry and enterprise

Unlimited customization options
But, keep in mind these pitfalls:
Few supported payment gateways

It is vital to be tech-savvy

Few annual topics
Besides the free plan, BigCartel has a premium version for $9.99 per month.
#9. Volusion
It is an e-commerce website builder for small business made for entrepreneurs who value analytics. It will amaze you with broad functionality to track the successes of your store. In addition, the platform has gained popularity due to its good SEO functionality for your website. All the necessary functions are in one place to flexibly adjust the visibility of your business in search engines.
In addition to the above, you can count on the following advantages:
Wide range of supported payment gateways

Customizing the design elements with CSS

Convenient tools for tracking delivery and taxation costs
However, this platform also has some disadvantages:
Few free themes

All pricing plans have a limit on the number of items sold
Acquiring this platform will cost you $29 per month.
#10. Ecwid
Ecwid is an extremely flexible solution for those who operate product showcases on other websites and want to integrate everything into a large sales network. The cloud structure of this e-commerce CMS for small business allows you to synchronize everything in one place, and the platform itself does not require installation. Do not forget about responsive design perfectly tailored for mobile devices.
Ecwid also has the following advantages:
Multichannel selling

A broad variety of payments

Nice pricing policy
However, the cons are also present:
Quite high transaction fees

The server-side and its performance are questionable
Ecwid offers a free plan at your disposal. Meanwhile, there is a paid plan for $99 per month if you want more benefits.
Wrapping Up
So, what do we have got at the end? The variety of e-commerce options for small businesses is extremely large, and it can take a long time to pick the ideal one for your enterprise. Each platform offers technicians who will create a custom store for you from scratch.
something unique for everyone and, at the same time, has certain nuances that are worth thinking about.
If you are limited in time and want to enter the market as soon as possible, you should turn to highly skilled Sam-Ecommerce is a top-tier Magento website development company that provides technical services to any-size businesses. We create unique e-commerce stores that combine high technology, the latest trends, and the power of the popular Magento platform. Just drop us a line, tell us more about our project, and we will come up with a perfect solution for your business.